News from September 14 to September 20
Abraham Accords, Ruth Bader Ginsburg, and honorable mentions

Shana Tova! As always, feel free to reach out to me with questions, comments, or concerns at newsofthejews@gmail.com. As I start the second year of News of the Jews, please let me know if you have any recommendations for how I can make the newsletter better! If you need good Jewish/Israeli shows or movies, make sure to check out this newsletter.
What happened? Last week, representatives from Israel, the UAE, and Bahrain joined President Trump to sign the historic Abraham Accords. After weeks of negotiations following President Trump's announcement that Israel and the UAE had agreed to normalize relations, the two nations formally signed off on a peace treaty. Bahrain was a late addition to the agreement after it announced its intention to normalize relations with Israel last week. Prime Minister Netanyahu represented Israel, Minister of Foreign Affairs and International Cooperation Abdullah bin Zayed Al-Nahyan represented the UAE, and Foreign Minister Abdullatif Al-Zayani represented Bahrain at the ceremony.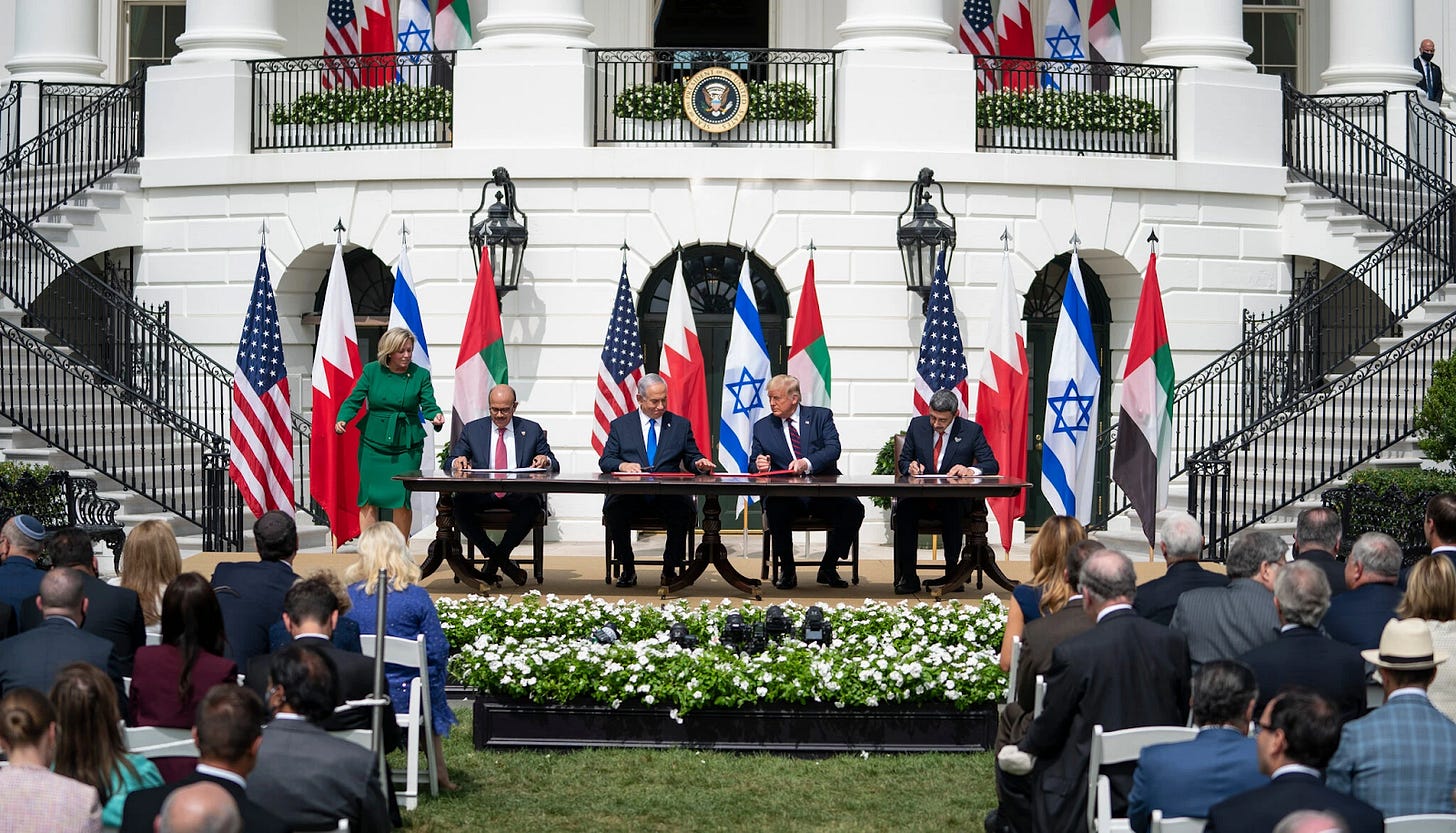 (From left) Al-Zayani, Netanyahu, Trump, and Al-Nahyan. Source: New York Times via Doug Mills
What do the agreements say? A lot! You can find the full text of the deals here. There are a few things that are noteworthy in the text. For one, the text hits many different areas of potential cooperation ranging from agriculture to the peaceful use of outer space. Yet, the agreements are perhaps most interesting in how they address the Palestinians. Notably, the text does not mention Israel's promise to suspend its planned annexation of the West Bank (though Al-Nahyan did thank Netanyahu for the suspension in his remarks). The only mention of the Palestinians in the agreements is a "[committment] to continuing [efforts] to achieve a just, comprehensive, realistic, and enduring solution to the Israeli-Palestinian conflict." If it was not already clear that the Gulf States are no longer prioritizing the Palestinians, they essentially just codified their views in the Abraham Accords.  
You can read President Trump's remarks at the ceremony here.
You can read Israeli Prime Minister Netanyahu's remarks at the ceremony here.
You can read Emirati Minister of Foreign Affairs Al-Nahyan's remarks at the ceremony here.
You can read Bahraini Foreign Affairs Minister Al-Zayani's remarks at the ceremony here. 
Why did they do this? What does it mean for the Palestinians? If you haven't already, I encourage you to read some of the newsletters I've written over the past few weeks. I wrote about the Palestinians last week and about the implications for the middle east a few weeks ago. 
Anything else? When they signed the actual agreements, Al-Nahyan was initially given the copy in Hebrew, and he had to ask Netanyahu for help figuring out where to sign. Netanyahu told Al-Nayhan that he would have to help him with Arabic as well. 
Now that the agreements are signed, cooperation can begin in earnest. Expect to see a lot of news about embassies opening and business deals. After all, the first Kosher restaurant in the UAE has already opened!
You can also expect to see news about more countries joining the deal over the next few weeks. President Trump said that the United States is talking to five or six more countries about joining the accords. Though most expect Oman and Sudan to be next, President Trump suggested that Saudi Arabia and Kuwait are possibilities. For what it's worth, Palestinian Authority Social Affairs Minister Ahmed Majdalani said that Oman, Sudan, Comoros, Djibouti, and Mauritania are speaking with Israel about normalization. Meanwhile, other reports suggested Palestinian officials believe Qatar is considering normalizing relations with Israel. 
I think it's unlikely that Saudi Arabia or Qatar will normalize relations before the election, but there is a chance that Sudan or Oman will. Importantly, Sudan is attending a meeting with the United States and the UAE in Abu Dhabi today that analysts believe could lead to normalization with Israel. As for the other countries, I think many of the states considering normalization are waiting to see the outcome of the election to "get on the good side" of the incoming President. Normalizing now does not buy as much goodwill if President Trump loses. 
Further reading:https://www.csis.org/analysis/significance-israel-uae-deal (CSIS)
What happened? Ruth Bader Ginsburg, the first Jewish woman to serve on the Supreme Court, passed away on Friday night due to pancreatic cancer complications. Nominated by President Clinton in 1993, Ginsburg served on the Supreme Court for 27 years. She was known for her strong opinions, trailblazing support for women's rights, and civility (she was famously good friends with the late Antonin Scalia, with whom she rarely agreed on judicial matters). Ginsburg's death on Rosh Hashanah is highly symbolic; in Judaism, those who pass on the new year are considered a "tzadik," meaning someone who is righteous and saintly. 
Was Ginsburg passionate about her Judaism? Definitely. I highly recommend you read this Jewish Women's Archive article about her as it answers this question thoroughly! The daughter of a Russian-born Jewish father and an American-born Jewish mother, Ginsburg frequently spoke about how much her Jewish roots colored her judicial perspective. 
When Senator Edward Kennedy suggested that her work on gender discrimination could also sensitize her views on racial discrimination during her confirmation hearings, she said, "Senator Kennedy, I am alert to discrimination. I grew up during World War II in a Jewish family. I have memories as a child, even before the war, of being in a car with my parents and passing a place in [Pennsylvania], a resort with a sign out in front that read: 'No dogs or Jews allowed.' Signs of that kind existed in this country during my childhood. One couldn't help but be sensitive to discrimination living as a Jew in America at the time of World War II."
After she was nominated and confirmed to the Supreme Court, she told the American Jewish Committee, "I am a judge born, raised, and proud of being a Jew. The demand for justice runs through the entirety of the Jewish tradition. I hope, in my years on the bench of the Supreme Court of the United States, I will have the strength and the courage to remain constant in the service of that demand."
The Genesis Prize, which celebrates Jewish "talent and achievement," awarded Ginsburg its inaugural lifetime achievement award.  
What have people been saying? There's far too much to outline briefly, so I'm going to give you a few articles about Ginsburg and Judaism:
"How Jewish history and the Holocaust fueled Ruth Bader Ginsburg's quest for justice" by Gillian Brockell (Washington Post)
"Ruth Bader Ginsburg was passionate about Judaism's concern for justice" by Yonat Shimron (Religion News Service)
"What would Ginsburg do? Move forward with hope" by Talya Zax (Forward) 
"Ruth Bader Ginsburg has passed away. Here are some of our favorite Jewish stories from her life." (Forward)
Honorable mentions:
"Looking for an online Rosh Hashanah or Yom Kippur service? Here are some options, based on your interests" (JTA) (Good for Yom Kippur content next week)
"'Car Nidre:' These synagogues are taking High Holidays to the parking lot" by Noa Wolstein (Forward)
"Jared Kushner got rabbinic pass to work Shabbat due to pandemic. Did he make good use of it?" by Avital Chizhik-Goldschmidt (Forward)
"The Jerusalem Post's 50 Most Influential Jews of 2020" (Jerusalem Post)
"Trump campaign launches new outreach initiative to American Jewish voters" by Jackson Richman (JNS)
"Typecast? In Netflix's 'Away,' Ato Essandoh again plays a Black Jew with a twist" by Gabe Friedman (From a couple of weeks ago, but it's excellent!)
"Peter Beinart's Grotesque Utopia" by Shany Mor (This is a detailed response to the Peter Beinart article I covered in July)
"Diego Schwartzman beats Nadal and Shapalov to advance to Italian Open finals" by Emily Burack (JTA)
If you've enjoyed this newsletter, feel free to pass it along to your friends!