News From November 4-November 10
Israeli election update, Ilhan Omar, and Jordan

In honor of Veteran's Day today, thank you to those who are serving now or have served in the past. As always, if you have any comments, questions, or concerns, send me an email at newsofthejews@gmail.com.
Does Israel have a government yet: Still no.
What's new? There were a couple of developments this week. The most interesting one is that Avigdor Liberman, head of Yisrael Beiteinu and coalition kingmaker, announced that he has set conditions to support either Benny Gantz or Netanyahu as prime minister. He wants Gantz to accept President Reuven Rivlin's coalition framework (which would allow Netanyahu to serve as Prime Minister first) and he wants Netanyahu to drop his insistence on including all of the right-wing parties in his coalition. Liberman insisted that if Gantz or Netanyahu refuses his conditions, he will back the other candidate. In other words, he will support whichever candidate accepts his ultimatum. It's a move straight out of Game of Thrones (also, if you're familiar with game theory, this is a great example of a Prisoner's Dilemma!). It also comes with a huge asterisk, though. The big question is whether or not Liberman will be willing to back a minority government led by Gantz and supported by the Israeli-Arab parties. Until recently, it would be borderline unthinkable that Liberman would join the Israeli-Arabs in supporting Gantz, but here we are. Will Netanyahu call Liberman's bluff? Tune in next week to find out. 
Liberman's credibility isn't the only issue; According to Israeli Basic Law, the MK who forms the government serves first. Now that Gantz technically has the mandate, if he and Netanyahu agree to the President's framework, Gantz technically has to be the Prime Minister first. In any event, there will have to be some legal issues worked out.
The other big piece of election news is that Netanyahu appointed New Right MK Naftali Bennett as his temporary Defense Minister. The move is mostly seen as Netanyahu trying to shore up support from the right-wing parties to prevent any defections to Gantz's center-left camp. 
Further reading: https://www.jpost.com/Israel-Elections (JPost)
Update: Since I wrote this, Liberman said that if Gantz accepts the unity deal, he will not force Netanyahu to abandon the right-wing parties, meaning that Liberman is somewhat going back on his word. 
Congresswoman Ilhan Omar posts another controversial
tweet
:
A quick note on this story: Congresswoman Ilhan Omar and her tweets are a subject of a great deal of controversy concerning whether or not they are antisemitic. I'm not going to make a determination here because there are a lot of good points made by both sides of the debate, but I will profile some of the perspectives on the issue.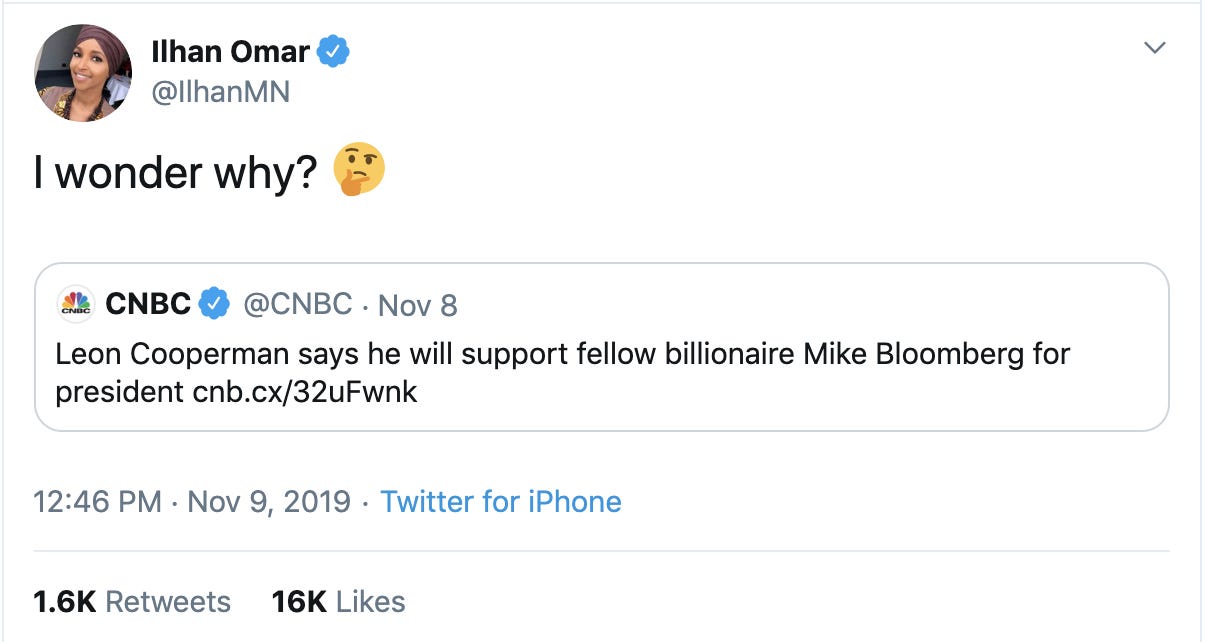 Background: Back in February, Congresswoman Omar tweeted, "It's all about the Benjamins," implying in its context that the American Israel Public Affairs Committee (AIPAC) was paying off congresspeople to support Israel. Not only was the tweet factually incorrect, but it was widely considered antisemitic. I wrote an article about the tweet and campus dialogue at the time that you can read here. Congresswoman Omar followed up her AIPAC tweet with comments just weeks later, accusing American policy-makers of holding allegiance to Israel. Her comments were seen as propagating the antisemitic trope of dual-loyalty.
The tweet is antisemitic: Although it doesn't explicitly call out Jews or Jewish organizations, some believe that the tweet is not about Cooperman and Bloomberg being billionaires, but about them being Jews. They claim that the tweet is a "dog-whistle;" that is to say that there is an intended meaning to the tweet that isn't seen by the average person but seen by a particular target audience. Those who believe the tweet was antisemitic cite some of the replies to her tweet, including this one: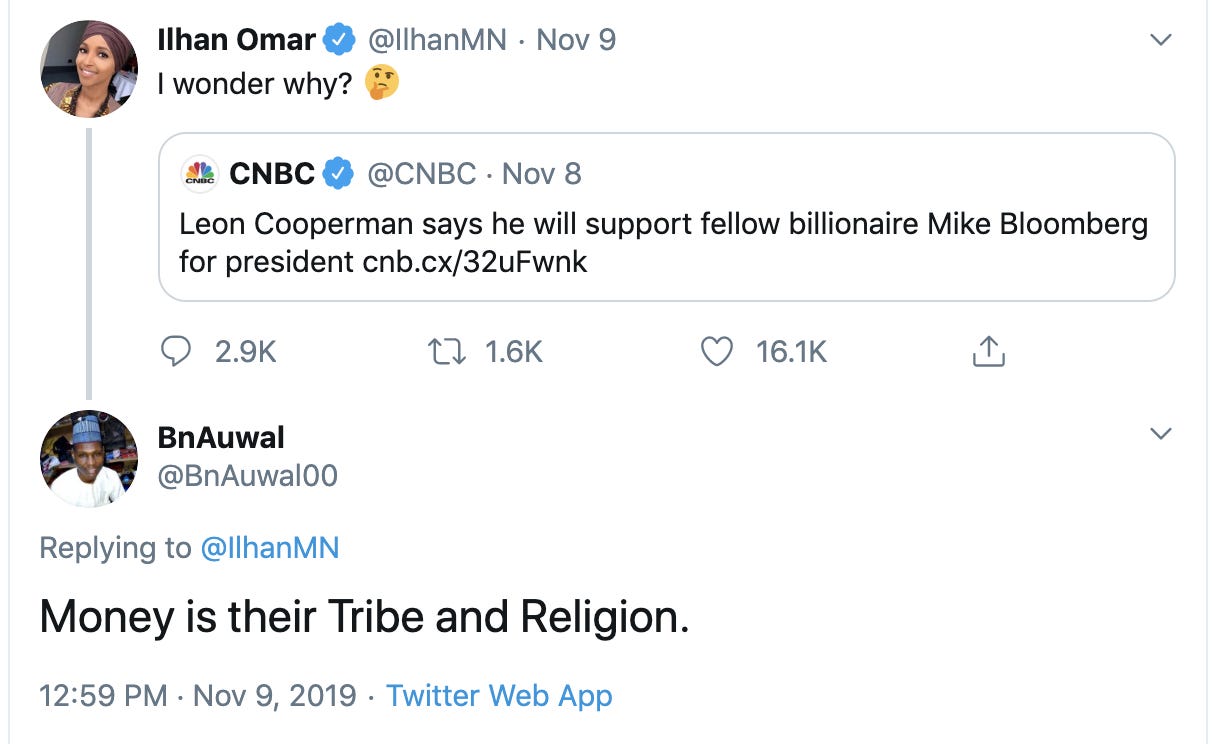 Even if Congresswoman Omar's tweet wasn't meant to reference Jews, it certainly was interpreted by some to refer to Cooperman and Bloomberg's shared Jewish heritage. President Trump has been accused of using similar dog whistles, so why shouldn't we accuse Congresswoman Omar? In any event, many feel that given Omar's lengthy history with accusations of antisemitism, she (and her communications team) should be aware of the subtle implications of her tweets. Critics are frustrated that she continues to post questionable tweets when the language could easily be changed to avoid any confusion. To many, she has simply lost the benefit of the doubt. 
The tweet is not antisemitic: The tweet doesn't mention Jews, and it is completely reasonable to point out that billionaires are sticking with each other in the Democratic primaries. She is pointing out something many feel is worth criticizing; billionaires are unhappy with the current Democratic field and feel the need to get involved in the race to protect their wealth. A deeper defense of Congresswoman Omar is that many think that allegations of antisemitism are used to stifle legitimate debate over Israeli policy, and Congresswoman Omar's latest tweet is another example of that phenomenon. In this case, some feel that we can't have a legitimate debate over the politics of wealth inequality because those involved are Jewish. To many, it's frustrating that they cannot have an honest discussion about certain political issues without being labeled as antisemites when the status quo involves Jews. Another perspective argues that labeling questionable (in the sense that they are controversial) incidents or behavior as antisemitic dilutes the meaning of the word. Evoking the same logic of "the boy who cries wolf," some feel that if Jews label contentious incidents as antisemitic, the charge becomes weaker. David Duke, the head of the Ku Klux Klan, is antisemitic. Does Congresswoman Omar's tweet justify labeling her the same as David Duke? The implication is that Jews are desensitizing non-Jewish allies who won't recognize the danger of antisemitism if we call things like Congresswoman Omar's tweet antisemitic. 
Concluding note: As I said, I am not going to take a side on this one because there are very fair arguments made on both sides. Tensions flare in the Jewish community when things like this happen because the issues are so divisive. I urge you to try to understand why people feel the way they do and sympathize with, rather than dismiss, the various arguments you hear about these issues.
Further reading (background on the Congresswoman Omar situation): https://www.vox.com/policy-and-politics/2019/3/6/18251639/ilhan-omar-israel-anti-semitism-jews (Vox)
Interesting, what's the deal? As part of the 1994 peace treaty between Israel and Jordan, Israel was allowed to lease Naharayim and Tzofar, fertile land along the Israeli-Jordanian border used for agriculture. The original deal allowed Israelis on the land for 25 years, after which the deal would be re-evaluated. It had always been assumed that Jordan would allow the Israelis to renew the agreement, but Jordan unexpectedly canceled the agreement earlier this year. Israel returned the land on Sunday without much controversy, which is perhaps a testament to the enduring peace between Jordan and Israel.
Anything else: Although it was undoubtedly legal under the terms of Israel and Jordan's peace agreement, the unexpected nature of the lease cancellation does represent somewhat of a rise in tensions between the two neighbors. Just recently, Israel and Jordan had a minor diplomatic dispute because two Jordanians were arrested in Israel and held without charges. Jordan recalled its ambassador, but after Israel returned the Jordanians, the diplomatic situation appeared to normalize. 
Further reading: https://www.jpost.com/Israel-News/Israel-to-lose-Naharayim-Tzofar-to-Jordan-on-Sunday-607222 (JPost)
If you enjoyed this newsletter, feel free to pass it on to your friends!