News from May 10-May 17
Pompeo visits Israel, Israel's new government, and honorable mentions
Hey everyone! As always, feel free to reach out to me with questions, comments, or concerns at newsofthejews@gmail.com. If you need good Jewish/Israeli shows or movies, make sure to check out this newsletter.
What happened? This week, American Secretary of State Mike Pompeo flew to Israel for a quick, one-day visit with senior Israeli leaders. It may seem like strange timing–Israel had to delay the swearing-in of its new government to accommodate Pompeo's visit–but many lingering issues needed to be resolved between the United States and Israel, some of which related to Israel's new governing coalition. Notably, Prime Minister Benjamin Netanyahu and Alternate Prime Minister Benny Gantz's coalition deal allows the former to annex parts of the West Bank starting on July 1st. While the United States does see that land becoming part of Israel in its peace plan, it has encouraged Israel only to proceed with annexation as part of "direct talks between Israel and the Palestinians on the Trump peace plan."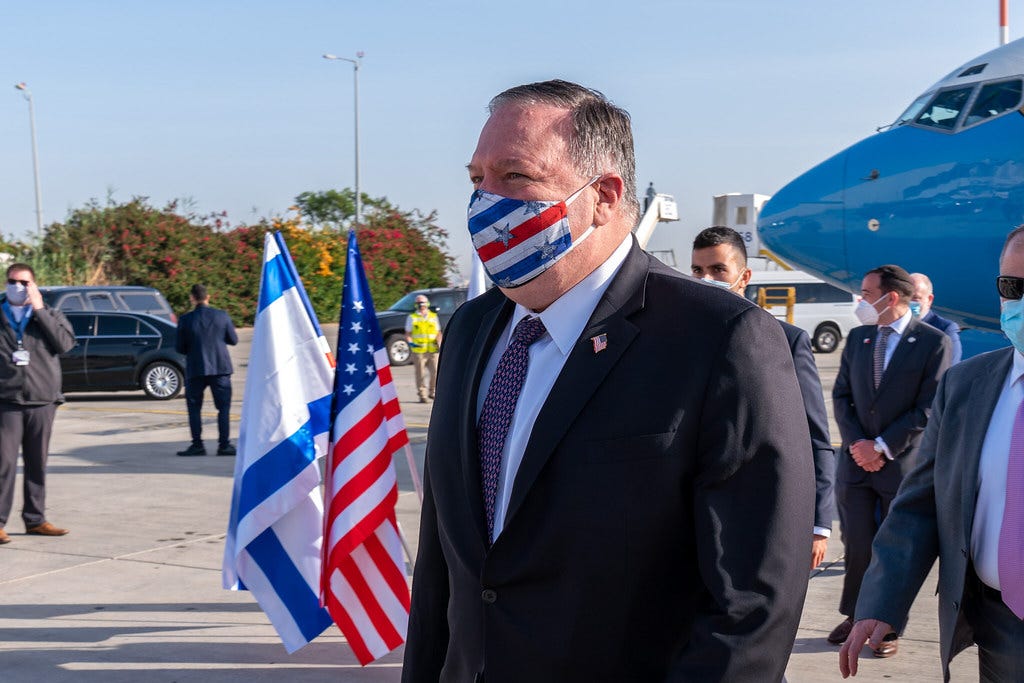 Secretary Pompeo arriving in Israel. United States State Department.
I thought annexation was a done deal? What happened? As David Halbfinger and Lara Jakes wrote in the New York Times piece, the Trump Administration's green light has turned yellow. There are a lot of reasons that could explain the "change of heart." Significantly, the King of Jordan has come out aggressively against any potential unilateral annexation in the West Bank. Given the importance of Israeli-Jordanian and (Israeli-Egyptian) peace, any disruptions in Israeli-Arab relations could cause a significant incident in the region. In his election year, President Trump likely does not want to be seen as responsible for Middle Eastern turmoil. Still, some argue, supporting annexation could bolster President Trump's support among his evangelical Christian Zionist base. In the New York Times article linked above, former diplomat Dennis Ross explained that coaxing Israel into talks with the Palestinians–rather than annexing unilaterally–could give President Trump a good talking point during his re-election campaign. By restarting Israeli-Palestinian negotiations, he would have succeeded where others have failed.
What else did they talk about? Two other items on Pompeo's agenda were the malicious threat of Iran and Israel's business dealings with China. Regarding the former, Israel claims that Iran recently launched a cyberattack on its water infrastructure. As for the latter, the United States and Israel have been at odds recently over Israel's embrace of Chinese business dealings. Specifically, Israel has allowed Chinese investments in its ports (which often have American military vessels docked) and near sites of strategic significance for the United States. Accordingly, the United States is not thrilled about sharing intelligence over networks it believes could be compromised by the Chinese presence. Somewhat relatedly, the Chinese ambassador to Israel was found dead in his residence on Sunday, leading some to speculate that question the circumstances surrounding the ambassador's death, but authorities said he died of natural causes.
Further reading: https://thehill.com/policy/international/497904-china-emerges-as-potential-strain-on-us-israel-relationship (The Hill)
What happened? After three elections, Israel finally has a government! The new government, led by Prime Minister Netanyahu and Alternate Prime Minister and Minister of Defense Gantz, was sworn in yesterday. You may find yourself wondering what an Alternative Prime Minister does; it's a new position that will enable Gantz to have veto power over many significant policy decisions. It's also one of many new positions in the Israeli government. With 34 ministers, the new government will be the largest in Israeli history. New portfolios include "settlements" and "community strengthening and advancement," among others.
Why are there so many ministers? To convince Gantz to join his coalition, Netanyahu had to cede portfolios that had been Likud's in the previous government to Blue and White. Notably, Blue and White received the foreign affairs and defense ministries which had previously been Likud portfolios. To make up for the lost portfolios, Netanyahu's government includes new ministries that he distributed for political purposes. Gantz's Blue and White also received new ministerial positions. Why does it seem like nobody is content with just being a member of the Knesset? Read this article.
Here's a breakdown of the major portfolios:
Prime Minister: Benjamin Netanyahu (Likud)
Alternate Prime Minister: Benny Gantz (BW)
Defense Minister: Benny Gantz (BW)
Foreign Minister: Gabi Ashkenazi (BW)
Finance Minister: Yisrael Katz (Likud)
Justice Minister: Avi Nissenkorn (BW)
Economy Minister: Amir Peretz (Labor, now BW)
Health Minister: Yuli Edelstein (Likud)
Further reading: https://www.politico.com/news/2020/05/17/israel-netanyahu-gantz-elections-262858 (Politico)
Honorable mentions:
Orthodox Rabbis are "increasingly split" about whether their congregants can form minyans and pray collectively.
Portugal's Socialist party proposes revoking a 2013 law that established a pathway to citizenship for Sephardic Jews who can prove they are the descendants of Jews expelled in the 15th century.
"In Boston, a Jewish agency tackles 'shocking' poverty and homelessness."
If you enjoyed this newsletter, feel free to pass it along to your friends!